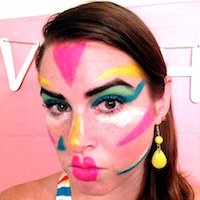 Filed by Ashley Bez

|

Jun 30, 2015 @ 2:10pm
Watch Amy Winehouse's flawless version of "Happy Birthday."
The image of the immensely talented yet tragic figure Amy Winehouse tends to be one of a troubled woman. She was always in the public eye for her endeavors, be they her misbehaviors or her triumphs. This newly discovered footage of 14-year-old Amy hanging out with her friends and singing "Happy Birthday" shows the star in a bright light. Even though she's only singing for a couple seconds, it's breathtaking, and you'll end up watching it on repeat and showing it to everyone you know.