In the wake damning revelations against some of Hollywood's most beloved celebrities, Twitter user Bakoan decided to give us a short break and called for pleasant stories about celebrities for once.
Fans shared their most lovely celebrity encounters, and finally, something positive on the internet!
1. Mara Wilson shared a huge relief about her Matilda co-stars.
2. The Doctor is a scholar.

3. Kristen Bell being nice is also a huge relief.
4. Nathan Fillion is a classic Canadian.

5. Thank god for The Boss.
6. Madeleine Albright is a queen.
i tweeted about sitting two rows from madeleine albright on a train to washington and she tweeted at me to come and say hello and when i did she talked to me for awhile and was very sweet and nice

— Erin Gloria Ryan (@morninggloria) November 10, 2017
7. And so is Sarah Silverman.
oh also i was an ex's date to the WGA awards and sarah silverman presented and on her way back to her table she full on gave me one of those handshake hugs and kept walking. my ex was like "uh i didn't know you guys were friends." we for sure are not, but that was nice of her.

— Erin Gloria Ryan (@morninggloria) November 10, 2017

8. Ooooo...Kenny G!
Kenny G would always tip $100 whenever I came to his house to fix whatever

— Egadsden? (@itspronounced48) November 10, 2017
9. SHOW ME THE MONEY!
I helped install Cuba Gooding Jrs home theater and he was SO excited and appreciative when we set him up to play different music in different rooms

— Egadsden? (@itspronounced48) November 10, 2017
10. Robin Williams was the best.
robin williams was the nicest, most compassionate celebrity I ever had the pleasure of knowing in person. personally saw him threaten to beat the hell out of some rando harassing a homeless person in the ocean district six or so years ago

— Dimsdale! (@caylenb) November 9, 2017
11. Kate McKinnon is generous.

12. No glitch in The Matrix.
13. Will Forte deserves to survive to be the Last Man of Earth.
14. No need to fix Chris Martin.

15. Nineties stars were the nicest.
Salma Hayek danced with my little sister at a party once, as did Shannon Doherty, and Spice Girl Mel C played Connect 4 with her. Lucy Liu was so incredibly kind and lovely when we worked together when I was nine that she became one of my first big crushes.

— Mara "Get Rid of the Nazis" Wilson (@MaraWilson) November 10, 2017
16. Joseph Gordon Levitt is extra with extras.
I was an extra in a movie, it was late night after a long day, and it was taking crew a *really* long time to prepare the next set-up. Joseph Gordon Levitt played a drum solo in a somehow-non-douchey way to entertain all the bored extras. It was nice.

— Baylor "November" Johnson (@theBaylorJ) November 9, 2017

17. Harrison Ford is as nice as he is nice-looking.
Harrison Ford gave a beautiful eulogy at my grandmother's funeral and guaranteed her assistant Renee would remain employed. He also never played a villain for decades because he didn't want to upset his mom. Grandma was his manager from 1970 until her death in 2005, for context. pic.twitter.com/6jRgLG9jIZ

— Em. (@UnimportantHero) November 10, 2017
18. Bless you, Beyoncé.
Beyoncé brings her empty glasses back to the bar ?

— Felix Navidad (@felix_cohen) November 10, 2017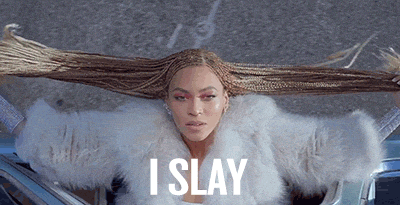 19. Tyra Banks will make you smize.
my friend was at the mall in the late 90s crying after a fight with her sister and out of nowhere Tyra Banks came and comforted her

— goblin backup singer (@hunktears) November 9, 2017