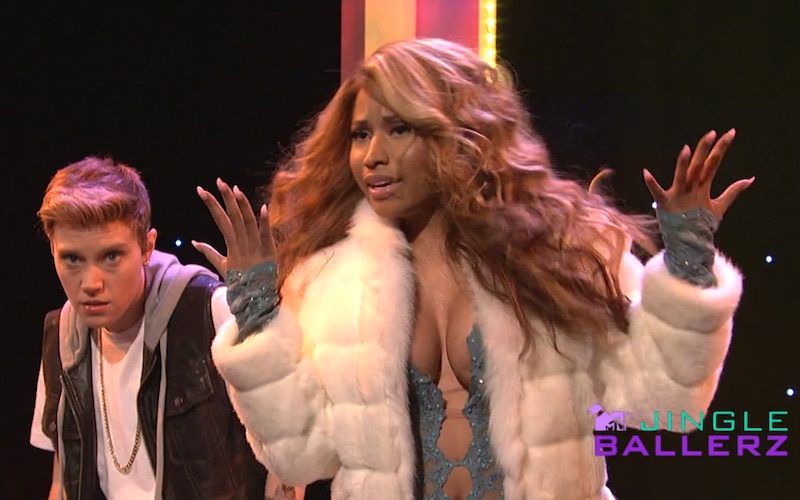 No joke though, Kate McKinnon's Bieber is flawless.
James Franco hosted Saturday Night Live this weekend. Franco is widely-known as a fun-loving actor who is up for anything and willing to be weird, but he's also known as someone who hates doing what's expected, even if what's expected is for him to do well. So, he let Nicki Minaj steal the show. Granted, Franco probably doesn't have the physical attributes to impersonate Kim Kardashian, and no matter what Nicki probably would have made headlines for sending up Kim K's world-famous nude photo shoot in Paper magazine last month.
Earlier in the show, SNL sent up the rap world with their "Hip Hop Nativity" sketch, and both Franco and Minaj appeared as Riff Raff and Beyoncé, respectively. Now, you'd expect that as a world-famous performer, Nicki Minaj should have the edge here, but Franco once portrayed (a character based on) Riff Raff for an entire movie. Nonetheless, it is Minaj's hand-motion theatrics as Queen Bey that comes off as the best impersonation in this celeb-studded sketch (after, perhaps, Jay Pharoah's Kanye. I'd be interested to think what Minaj's Kardashian thought of Pharoah's West).
This moment was helpfully immortalized in Vine form if you don't feel like waiting for the other imitations to take their turns.
Nicki's hair seems to have left its multi-colored hues in the past, and she is increasingly assuming a speaking role in the pop culture pantheon (as opposed to "the musical guest who occasionally makes awesome faces" role) as she prepares to release her new album The Pinkprint. Hopefully, she keeps her comedy chops honed, because there's nothing America loves more than celebrities doing celebrity impressions. It's how you get invited to do talk shows until you're 80.
(by Johnny McNulty)