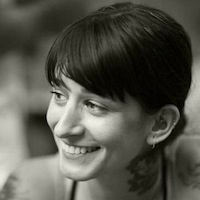 Filed by Jessie Dean Altman

|

May 24, 2016 @ 9:28am
On Tuesday, Nicki Minaj posted an Instagram of a bathroom mirror selfie where, clad only in a blue-gray bra, she's got one arm wrapped around her midsection, under her breasts (sort of cradling them, or offering them up for inspection), captioned "Congratulations." Yes, great job! On…what, though?
A photo posted by Nicki Minaj (@nickiminaj) on
Could she be congratulating her boyfriend Meek Mills on winning the Billboard Music Award for best rap album on Sunday night? Maybe her breasts helped make the album? But that doesn't seem right, timing-wise.
Maybe she's just congratulating her breasts for being so good, or herself for having them. There's just no way to know what mysterious message Minaj is sending the world. But that won't stop people from trying to guess.
And mostly what commenters have guessed is: she's pregnant.