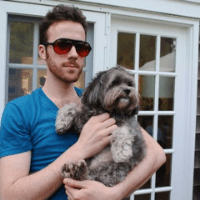 Filed by Miles Klee

|

May 07, 2017 @ 4:12pm
What do you think a superstar like Nicki Minaj gets up to on a Saturday night? Does she hit the hottest clubs in town? Just chill at home with her entourage? Work on her next monster single? Nah, she's like you and me. She's on Twitter. And probably smoking some weed.
The two big differences between you and Nicki, though, are that she's super rich and has thousands of young, adoring fans. Which is why, when she was in the middle of retweeting a few of her favorite fan videos for a contest, someone asked her this very important question.
Shockingly, Nicki was on board—and extended the offer to everyone else who follows her account.
Soon enough, everyone was asking for help making ends meet as they finish school. Nicki was happy to help.
All told, Nicki promised money to about 30 current and former students before logging off for the night. But if you didn't get your cash, never fear—she also promised to offer another round of scholarships soon.
Honestly, she should just skip a step and open Minaj Academy already.