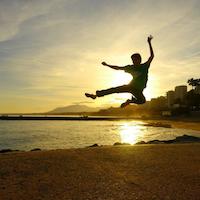 Filed by Mitchell Friedman

|

Feb 27, 2017 @ 9:44am
At the Oscars in 2015, Nicole Kidman's clapping freaked people out. Here are two random tweets about it from two years ago:
An emotional heartfelt moment ruined by Nicole Kidman's seal flipper clapping. What, was she worried she'd ruin her manicure? #Oscars2015

— thenotoriousehd (@thenotoriousehd) February 23, 2015
Is Nicole Kidman painting her nails while the show is on? There is no other explanation for her clapping that way. #Oscars2015

— Amanda C. (@acarrin) February 23, 2015
At the 2017 Oscars Sunday night, Kidman was at it again, where "it" is the most bizarre, alien attempt at clapping anyone's ever seen.
Hmm. Why? Are her finger bones too fragile to slap into each other? Is... nope, that's the only theory I got. Let's turn it over to Twitter for some extremely reasonable hypotheses.
1. She learned from high society.
2. She's channeling Johnny Depp.
3. It's all a lie.
Where are the undoctored videos of Nicole Kidman clapping?

— Jordan Hoffman (@jhoffman) February 27, 2017
4. She's snacking.
5. She has salad fingers.
6. She's getting clean.
Nicole Kidman is passing around Purell to everyone in the front row right now #Oscars

— Matt Oswalt (@MattOswaltVA) February 27, 2017
7. No one taught her!
8. She's an elf or a goblin.
wow really classy, making fun of nicole kidman just because she has the fucked up hands of an elf or goblin

— thomas violence (@thomas_violence) February 27, 2017
9. She's a wax figure come to life, still integrating into human society.
Fun fact: Nicole Kidman actually died 15 years ago but her wax figure continues to make appearances. #Oscars

— Erica (@SCbchbum) February 27, 2017
If you have any further information on the origin behind Nicole Kidman's inhuman clapping style, please get in touch with us via the Someecards tip hotline. Your identity will remain anonymous.