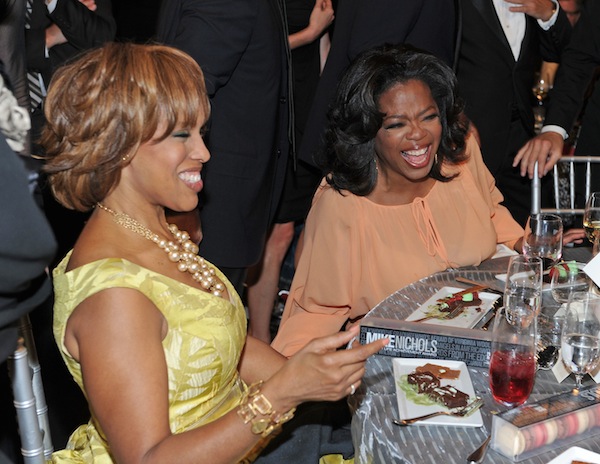 Scandalous. (via Getty Images)
Finally, there is definitive almost evidence that Oprah and Gayle have a weird relationship. Oprah's ex-stepmother, Barbara Winfrey, decided to reveal her private knowledge of the Oprah-Gayle-Steadman love triangle in an exclusive interview in The Daily Mail after Oprah forced her out of her shared home with father Vernon Winfrey. According to Barbara, she never saw Oprah and Steadmen kiss or even hold hands in the 14 years that she was part of their family, but when talking about Oprah with Gayle she said, "If it's not more than friendship they're giving every appearance that it is."  
Oh! So you've seen Oprah and Gayle kissing and holding hands together? Entering each other's bedrooms at night? Making passionate love on a pile of Deepak Chopra books?
Nope. According to Barbara Winfrey, they just spend a lot of time together. 
Frankly, I'm concerned she didn't have more dirt. Fourteen years and not one truly spicy tidbit? Ok, yes, she caught Oprah helping Steadman's book sales by buying a warehouse of his books, but please... I've done more shocking activities while drinking coffee and writing this post (my apologies to the waitress). For shame, Barbara Winfrey, for shame. Here's hoping the next woman Vernon marries has a little more chutzpah.
(by Myka Fox)