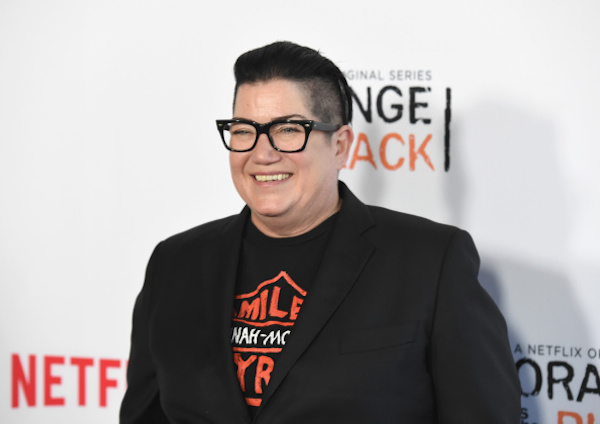 Takes the train. Doesn't take crap. (via Getty)
Lea DeLaria plays the take-no-shit convict Big Boo on Orange is the New Black, but she's also pretty badass in real life. At least when it comes to dealing with looney preachers on New York City subways.
Delaria was riding the D train when a Bible thumper began preaching to disinterested commuters. At the beginning of the tape, you can hear him saying "Jesus loves you," which seemed to be enough to get the undivided attention of DeLaria, who clearly wasn't in the mood for a sermon. She probably had a good idea where the guy was headed. Anyone who rides the trains knows that "Jesus loves you," is usually the appetizer for a main course of "God hates gays."
DeLaria confronted the guy, shouting over him that "he has no right," even though I'm pretty sure he does, at least according to the First Amendment. She may have been just exercising her own right to yell whatever the hell she feels like in the process of shouting down an obnoxious asshole.
'You have absolutely no right sir. Get off this train!. Other people believe other things and everybody has the right to believe in other things on this planet and in this world.' 'Jesus never sent for you to do this never, not anywhere in the Bible. Show me anywhere in the Bible where Jesus says it is OK for you to do this. Don't come at me because I went to fucking Catholic school for 12 years and I know every lie.'

You can tell by the guy's reaction that he's not used to being outshouted. He may have also been thrown off by someone yelling about a Catholic school education while wearing a "Bad Jew" T-shirt. That probably confused a lot of people.
If nothing else, the NYC passengers got a break from the monotony of being yelled at by an amateur crazy person, and were treated to a pretty great monologue delivered by a professional actress.
(by Jonathan Corbett)