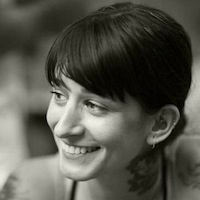 Filed by Jessie Dean Altman

|

Dec 07, 2016 @ 9:12am
Today in "Stupid Things Men Do & Say," we have this fun clip from British all-around jerk Piers Morgan, in which he acts like watching Madonna twerk makes him vomit.
Morgan actually has a long-standing dislike of Madonna (too long to get into), so his reaction isn't too surprising. It's still stupid, it's just not a shock.
ICYMI: Madonna filmed Carpool Karaoke for The Late Late Show recently, and on Tuesday, the show released a teaser promo for the upcoming episode of host James Corden and Madge singing and dancing in the car.
Morgan called the clip "gut-wrenching" and then pretended to retch into a garbage can (sorry, "bin"). Because watching one of the most famous pop superstars the world has ever seen, who also happens to be over 50 (blech! Can you imagine??), dancing and having fun makes Morgan throw up.
In response to Morgan's bit of totally uncalled for rudeness, fans of Madonna, women, feminists, and basically anybody who is not Piers Morgan responded angrily on Twitter.
Apparently Piers Morgan said "you can't be 58 and dancing round like that" about Madonna.
Oh, do fuck off, you boring twat.

— kath (@mrs_coyle) December 6, 2016
Ironic that @piersmorgan has a bucket for Madonna, but I have to eat my breakfast and look at Piers' ugly mutt of a face in the morning.

— Isaac 🌐 (@isaacblackburn7) December 7, 2016
Why the hell should Madonna give a damn what Piers Morgan think about her???

— Tiahzzi Cherrelle (@MissTia777) December 7, 2016
Piers Morgan pretending to puke in a bucket about Madonna acting sexual 'at her age'.

Shake it, Madonna. Bloody looks fantastic for 58! <3

— Settle Petal 🎅🏻🎄⛄ (@Different_Name_) December 6, 2016
Piers Morgan 'vomits' into bucket after watching Madonna dance. Well to be honest, I vomit when I see Piers on the telly anyway.

— Volfuzzled (@VolfMech) December 6, 2016
Also, congrats to this guy on Twitter for this wonderfully prescient tweet on Monday, when the Madonna Carpool Karaoke clip was released.