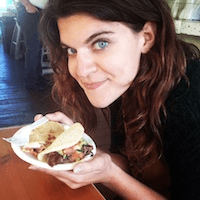 Filed by Kelsey Solywoda

|

May 16, 2017 @ 4:04pm
You may remember that last fall, playboy model Dani Mathers was charged with invasion of privacy after she Snapchatted a photo of a naked woman at the gym. Now, a Los Angeles judge has denied her attempt to avoid a trial.
According to the New York Daily News, Mathers filed a defense motion claiming that the privacy law she allegedly violated is too ambiguous to be constitutional. Judge Gustavo Sztraicher ruled that the statute was indeed constitutional.
Mathers is charged with misdemeanor invasion of privacy. She violated a California law that prohibits secretly recording or photographing of an "identifiable person" in a home, changing room, or tanning booth without their consent.
Last summer, Mathers posted a nude photo of a 70-something woman in the locker room at the gym to her Snapchat, without the woman's permission. (She's like, really sorry about it, though.)
Mathers' lawyer Dana Cole argued that the wording of the law, specifically the phrase "identifiable person" is too confusing to be enforced. He argued that it was a "far-away shot" and that the victim's features couldn't be identified.
He argued that it took the LAPD "a lot of hours and a lot of work" to track down the woman Mathers Snapchatted. (Although it should be noted that they did find her.)
"The court finds the statute is constitutional and not void for vagueness," the judge ruled.
Mathers' trial is tentatively set to begin on May 26.