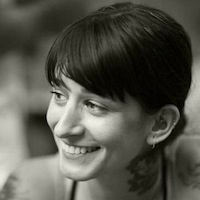 Filed by Jessie Dean Altman

|

Jul 15, 2016 @ 3:45pm
On Thursday, Playboy Playmate Dani Mather posted a Snapchat of herself looking completely aghast while a naked woman behind her showered at the gym. And in case her disdain towards the awfulness of a regular woman's naked body wasn't apparent in the horrified look on her face, she included the words "If I can't unsee this, then you can't either." Mather, who was Playboy's 2015 Playmate of the Year, deleted the Snap after getting a ton of backlash for her arrogance and body-shaming, but, you know, too little, too late. She even had the audacity to claim she didn't mean to post it, but she just didn't understand how Snapchat worked. Uh-huh. As if anyone was buying that.