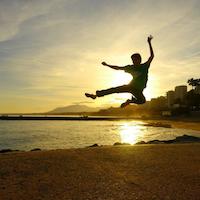 Filed by Mitchell Friedman

|

Jun 01, 2016 @ 4:14pm
Canadian model Winnie Harlow just appeared in Queen Beyonce's Lemonade, and now English royal family members are appearing in her selfies. You know you're #crushing it when you're having lunch so close to Prince Harry that he's sticking out his tongue to ruin your photo-op.
"When you're trying to have a serious convo but your agent and Prince Harry aren't serious at all," the 21-year-old captioned her Instagram, capitalizing on the phrase "that moment when..." even though it's obviously a moment no one else is ever having.