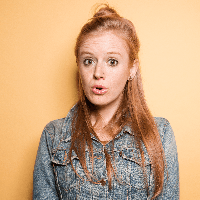 Filed by may wilkerson

|

Dec 05, 2016 @ 3:20pm
'Tis the season for giving and receiving, I guess. R. Kelly got into the Christmas spirit at his Detroit holiday-themed concert on Friday night when he asked for a crotch grab from an audience member. And, wow, did she ever oblige.
It all started creepily enough, when the singer handed a towel to a woman in the front row and crooned: "baby take a towel, and wipe my face." She did. He then instructed her to wipe his forehead and cheeks and even his tongue (she did), before standing up and extending his pelvis towards her. "Now grab it!" he said. Again, she did. This woman is great at following directions!
You can watch the (mildly NSFW) video here:
The singer's shocked reaction shows that for some reason he didn't expect the woman to do what he asked, even though she had meticulously followed directions up until that point. But he was definitely okay with it, exclaiming: "I like that shit!"
What's the exact opposite of a Christmas miracle? That's what this is. RIP Christmas. My childhood is ruined.