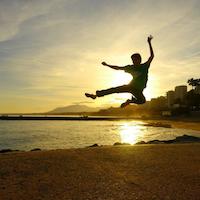 Filed by Mitchell Friedman

|

Jan 12, 2016 @ 9:31am
It's not that Ricky Gervais went out of his way to offend people during his fourth stint hosting the Golden Globes on Sunday, because offending people at the Golden Globes is just what Ricky does. So anyone who took to his Twitter feed looking for an apology about a particularly contentious Caitlyn Jenner joke was already in the wrong place. Here's Ricky's rant about why you shouldn't be offended by his joke. Naturally, it is seasoned with some flavorful NSFW language.
Suggesting a joke about Caitlin Jenner is automatically transphobic is like suggesting a joke about Bill Cosby is automatically racist.

— Ricky Gervais (@rickygervais) January 12, 2016