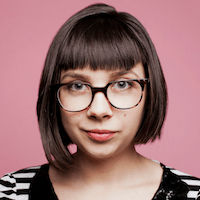 Filed by April Lavalle

|

May 30, 2017 @ 2:04pm
So apparently Rihanna has gained weight recently. On Friday, the internet was sent into a frenzy after BuzzFeed ran an article called "Rihanna's Getting Thick And Fans Are Rejoicing," complete with pictures of the singer showing off her curves.
So, I guess people really care about Rihanna's weight? Despite it being no one's business? Commenting on women's bodies in any capacity feels gross and intrusive—that being said, most of the initial reaction to her weight gain was very positive.
A post shared by Rihanna Navy⚓️ (@robyn_riri_fenty1) on
Rihanna's weight gain didn't just capture the attention of fans, though. It also was written about in a blog post on the internet's toxic masculinity epicenter, Barstool Sports. Amongst various articles about sports, Donald Trump and other bro-culture staples is a post entitled "Is Rihanna Going To Make Being Fat The Hot New Trend?" Blogger Chris Spags laments the loss of Rihanna's slimmer body and writes about how he hopes that Rihanna is just pregnant because if a woman has gained weight, she better have a baby growing in her.
So is it possible these photos of Rihanna from this weekend in NYC are a classic "bad visual" situation where she's the same as she's always looked but happens to appear like she's going for Ashley Graham's spot on the plus-sized hierarchy? Absolutely. Or maybe she's been on the road, enjoying that good room service a bit too long. We all know that feeling after indulging a little too much for vacation.

But it looks to me like Rihanna is rocking some new high key thiccness. And based on what I've seen, that means it's time to worry if you're not a guy who fancies himself a chubby chaser.
Even worse, Spags fears that other young woman might follow in Rihanna's footsteps and dare to eat a carb every now and again. Because if there is anything a shallow man hates more than a fat woman, it is fat women:
So you see her pushing 180 and it's a tough world to stomach. With all the fat acceptance and "love me as I am" crowd, there's definitely a world where I could see chicks see Rihanna make some strong "I don't give a fuck I just love pizza" quote that goes viral and bam we're in a world where all the hottest girls look like the humans in Wall-E. And just in time for summer too. A world of ladies shaped like the Hindenburg loaded into one-piece bathing suits may be on the horizon now that Rihanna is traipsing around out there looking like she's in a sumo suit. It's a dangerous precedent and you may want to start adjusting your porn browsing to primarily BBW porn to condition yourself to this dystopian future we now face.
He concluded a post with an "in memoriam" for Rihanna's more slender body by posting several throwback pictures of the singer. Creepy.
Look, I know that no one is turning to Barstool Sports FOR feminist prose, but come on. First of all, let's get one thing super, super clear. Whether Rihanna is 110 pounds or 310, she is never going to f*ck you, dude. Second of all, comparing a woman to the Hindenburg is not good or original joke writing. Lastly, we hope fat women take over the world and crush you.
Women's beauty magazine Allure took a moment to criticize Barstool Sports for blatantly degrading women as a way to get clicks.
Soon Rihanna fans and just plain ol' decent people started dragging the bro-blog and the post's author:
@ChrisSpags I'm not a Rihanna fan or a woman and I thought the article was repulsive. Also it reads like it was written by a 5-year-old #Soreeeeee

— David Tanklefsky (@davidtanklefsky) May 30, 2017
@ChrisSpags Bar stools is not a top 3 sports site and you tend to be desperate for clicks but this was wack. what you said was fucked up she's not fat.

— damn daniel (@BLiantii) May 30, 2017
Of course, this professional troll ended up reacting like professional trolls do:
At this point, it is not worth writing a long-winded response as to why men should start treating women (of all sizes) like humans because I would hope that we are beyond that at this point. Adopt Rihanna's "IDGAF" attitude and take revenge by enjoying a slice of pizza, loving your body the way it is, and knowing that somewhere, a legion of sad, lonely dudes are driven crazy by it.