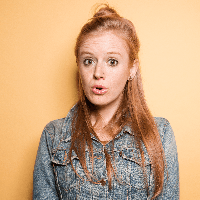 Filed by may wilkerson

|

Apr 07, 2017 @ 1:00pm
Human toothpaste commercial Ryan Seacrest thought he was pulling a hilarious prank on American Idol judges Randy Jackson and Simon Cowell when he shared a Throwback Thursday photo of the three of them from the early American Idol years. But it looks like the person he ended up pranking was himself.
"They're gonna kill me for posting this," he wrote, joking that Cowell and Jackson would be mad at him for embarrassing them. Lolz!
But the American Idol host may have miscalculated who exactly would be most "embarrassed" by this photo. Because the internet quickly turned their attention to Seacrest—specifically, whatever in God's name is happening on top of his head.
People can't stop roasting him for those sweet, sweet frosted tips.
Weeeeellll who's got the blonde tips going on there buddy? 😂

— Katie Cselovszki (@_naughTAY2968) April 7, 2017
..you can hide at my house Ryan :0) ..they like never ever visit :0)

— Shy Keenan (@ShyKeenan) April 7, 2017
To be fair, people are making fun of Simon Cowell and his intense suntan situation, too.
What is happening to Simon's skin Jesus

— Juan Aguas (@JuanAguas) April 7, 2017
Y is that dude all red faced

— Adam Cali (@AdamCalii) April 7, 2017
But let's be real, most people are going to look at this photo and just imagine Ryan Seacrest walking into a barber shop like "frost the tips, please!"
Golden years! pretty hansome Ryan! ;)

— Jose Ruiz Palacios (@Morbo_rp) April 7, 2017
Good one, Ryan! LOLZ! You really got 'em bad this time!