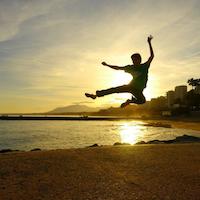 Filed by Mitchell Friedman

|

Mar 03, 2016 @ 1:30pm
When there's no good Kanye West tweets to make fun of, Sam Smith has acted as a comfortable target to fill the ridicule void. That's why it's so disturbing to hear he's hitting the "log out" button for good. Or at least for now.
I'm logging off for a while. Some Martinis shaken not stirred are definitely in order.

— Sam Smith (@samsmithworld) March 1, 2016
But before saying goodbye to the rewriter of Tom Petty's 1989 song, "I Won't Back Down," it's important you understand the beautiful moments that culminated in his sign-off.