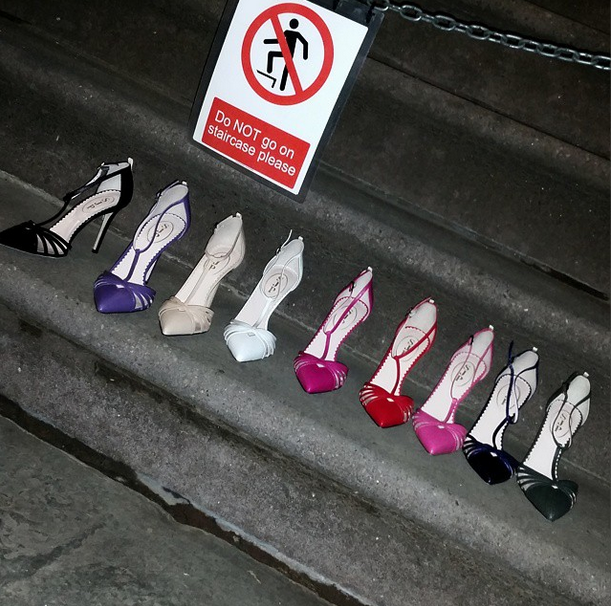 Some Jimmy Choos might have walked away, but the SJP Collection is for badasses only. 
"Sometimes, between agonizing over a rich douche in Paris and a rich douche at home, a girl in New York City has to wonder... what's more important? Property rights, or shoes?"
For Carrie Bradshaw, aka actress Sarah Jessica Parker, the answer, obviously, is shoes. Ms. Parker staged an unauthorized photo shoot to promote her shoe line, the SJP Collection, last week in front of 66 Perry Street, the West Village townhouse which was used to film the exterior of Carrie's apartment in Sex and the City. The owners of the townhouse agreed long ago to let HBO film the building for the show, and they have regretted it ever since, because the sidewalk is constantly choked with tourists. I hope for their sake that Sex and the City 3 turns out to take place on a fashionable moon base.
A source close to the building's owners told the NYPost that this latest incursion by the star herself has them at wits' end: "SJP has ignored their requests for an explanation on how she could endorse the shoot, even though 'no trespassing' signs are posted." 
"SJP used their house during the years of filming, and now won't acknowledge that she and her company used the steps and facade, this time without permission, to promote her shoe line," said the source.
Although the owners would not speak directly, Gerald Banu heads the neighborhood Perry Street Association, and he told the Post that no one had asked permission for the shoot and that the entire block is constantly fed up with the tourists looking to take pictures of Carrie's house as it is. Said Mr. Banu, "The only thing I could suggest to SJP is that when they write the next script, please have Carrie move to a new address."
It seems like a tough week to be either a millionaire who owns a West Village townhouse, or a millionaire who has her own Nordstrom's-exclusive shoe line. These are the kind of hard-hitting struggles that remind us why we fell in love with the gritty world of Sex and the City in the first place.
(by Johnny McNulty)