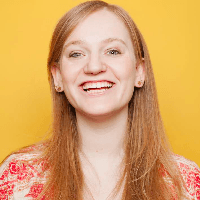 Filed by Orli Matlow

|

Apr 19, 2017 @ 10:14am
Shannon Purser bursted onto this scene this summer playing the dearly departed Barb on Stranger Things, and also appears on this spring's newest obsession Riverdale. Playing Ethel Muggs, Purser has appeared on a few episodes of The CW's sexy Archie Comics-inspired murder mystery teen drama (It's better than it sounds, I swear).
In one of the fist episodes of the show, Betty and Veronica (you know, from the comics!) shared a kiss that was meant to "shock" their peers, which angered members of the LGBT community but also prompted some serious 'shipping.
Jezebel reports that in a now-deleted tweet, Purser commented to co-star Cody Cole Sprouse (who plays Literary Bro Jughead Jones) about "angry beronica stans."
She was then inundated with tweets from people criticizing the show for queerbaiting, using a same-sex kiss as a salacious ratings boost, not a relationship.
She responded:
Ships are great, being horrible to people who don't ship your ship is not.

— Shannon Purser (@shannonpurser) April 18, 2017
@shannonpurser @colesprouse riverdale had the chance to open doors and do something groundbreaking, something that would mean so much to so many young girls

— jamie not spears (@jmiemarie) April 18, 2017
And I get that, representation is so powerful and important. But we didn't write the show? We have literally no say in what happens. https://t.co/V4k4m8TgKU

— Shannon Purser (@shannonpurser) April 18, 2017
Lemme clarify, not angry at beronica stans. Not even angry at rightfully upset beronica stans. Disappointed with hateful people. Peace ✌🏻

— Shannon Purser (@shannonpurser) April 18, 2017
Shannon Purser later shared a longer note apologizing to people who were hurt by her comment, explaining that she was unfamiliar with the concept of queerbaiting and that she, herself, is bisexual.
Fans responded positively to the note, welcoming her to the LGBTQ+ community and grateful for her apology.
@shannonpurser Thanks for caring and understanding. Love you, and welcome to the LGBTQ+ community ❤🌈

— Donna Standall (@dannytrogen) April 19, 2017
Last week, Shannon Purser tweeted about sexuality.
Getting comfortable with your sexuality is a process. It's going to be ok. I wish I'd known that sooner.

— Shannon Purser (@shannonpurser) April 11, 2017
Another thing I wish I'd known about sexuality is to take it slow. It can define you as much as you want it to.

— Shannon Purser (@shannonpurser) April 11, 2017
Either way, I know what it's like to have anxiety about it. Especially trying to come to terms with it and my faith. It can be really scary.

— Shannon Purser (@shannonpurser) April 11, 2017
But it's gonna be ok. You're going to be ok. No, you're going to be great.

— Shannon Purser (@shannonpurser) April 11, 2017
All that to say, you're not alone. You're in my prayers and, if you're the praying kind, please keep me in yours. 💜

— Shannon Purser (@shannonpurser) April 11, 2017
Here's hoping that Riverdale will catch up to real life and feature some real queer relationships (Kevin Keller deserves better than a Serpent taking advantage of him!)