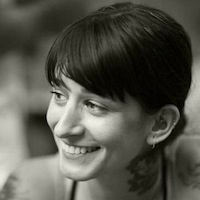 Filed by Jessie Dean Altman

|

May 17, 2016 @ 10:22am
Shia LaBeouf sported his natural curly hair at Cannes for the premiere of his movie American Honey, reminding people of when he was an adorable character on a Disney Channel show, and not a slightly unhinged, long-suffering thespian.
He's probably just growing out his hair because he'll be playing the part of John McEnroe in the upcoming movie Borg vs McEnroe. No, he can't play tennis, but that's okay, because he will commit himself and learn to play like a professional, because he's an artist, devoted to his craft. He'll probably go without sleep for weeks at a time to practice his backhand and serve and…lob and…whatever other tennis things there are. He'll wear that goddamn terrycloth tennis headband like no one's ever worn a headband before.