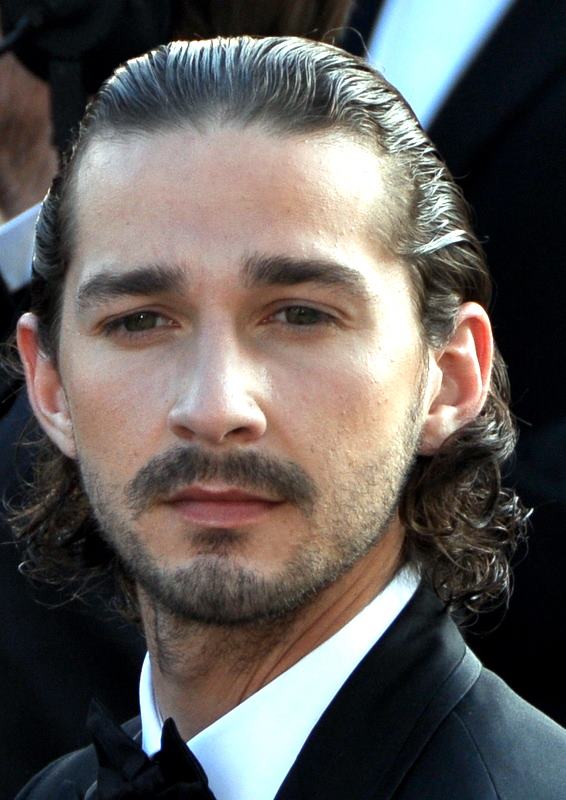 Much like Oscar-bait films, candidates for Dumbass of the Year often debut in December.
(via Georges Biard)
Shia LaBeouf, or as I'm increasingly calling him in my head, "Evil Joseph Gordon-Levitt" made his directorial debut last year with a short film called HowardCantour.com, which received positive reviews after premiering at Cannes, and was released on the Internet this week.
That turned out to be a mistake for LaBeouf, because unlike professional film critics, Internet people read graphic comics and are already suspicious that everything is fake. Before long, BuzzFeed had confirmed with the author that HowardCantour.com was a big, fat, plagiarized rip-off of graphic novellist Daniel Clowes' short story, Justin M. Damiano. It's a short film and even shorter story (just 7 illustrated pages), so it wasn't too hard for people on the Internet to actually sit down and verify that they were too much alike.
It wasn't hard for Shia to realize that everyone else had spotted him, apparently, because he apologized (at least by celebrity non-apology standards) through the Twitter account @thecampaignbook, the same account that was used to promote HowardCantour.com. I will share the whole apology with you in a second, but remember that this was being tweeted, i.e. in sub-140-character increments. Here is the first tweet of his apology:
Copying isn't particularly creative work. Being inspired by someone else's idea to produce something new and different IS creative work.

— Shia LaBeouf (@thecampaignbook) December 17, 2013
Ohhhh. We should congratulate you. I see now.
OK. Seems pretty trite, but that's not the worst response I've ever heard. Just kinda sounds like something you'd read anywhere on the Internet...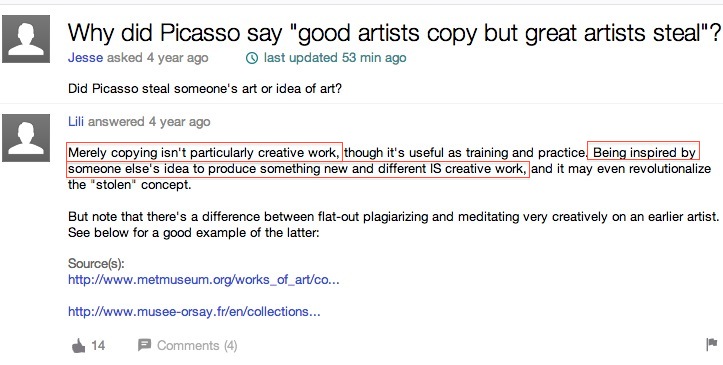 Dude. Did you also ask Yahoo! which story you should turn into a short film? (via)
That four-year-old post, ladies and gentlemen, is not from the message boards of a university or philosophical forum, but Yahoo! Answers, the Internet's ultimate repository for advice on whether or not going to 3rd base gets you pregnant (yep. sorry).  But wait! It gets better!
This isn't even the first god-damn time that LaBeouf has plagiarized an apology. He plagiarized an apology email to Alec Baldwin from Esquire. It wasn't like Baldwin called him out; LeBeouf released the private email to the public. Because.
This raises so, so many questions. Does Shia LaBeouf have a lazy intern who handles all of Shia LaBeouf's statements about how Shia LaBeouf is an asshole? Did Shia LaBeouf plagiarize his plagiarism apology on purpose, just to be a LaBeouf about it? If Shia LaBeouf and Joseph Gordon-Levitt ever touch, will they annihilate each other in a burst of pure energy?
Also up for debate is if he plagiarized his douchebag behaviors like filming a woman vomiting in London and getting kicked. Or getting in a drunken fight and threatening to pull a knife on people. Or staring down motorcyclists. I don't even have time to find all these. Just Google.
Here's the full "apology":
"Copying isn't particularly creative work. Being inspired by someone else's idea to produce something new and different IS creative work. In my excitement and naiveté as an amateur filmmaker, I got lost in the creative process and neglected to follow proper accreditation. I'm embarrassed that I failed to credit @danielclowes for his original graphic novella Justin M. Damiano, which served as my inspiration. I was truly moved by his piece of work and I knew that it would make a poignant and relevant short. I apologize to all who assumed I wrote it. I deeply regret the manner in which these events have unfolded and want @danielclowes to know that I have a great respect for his work. I fucked up."
Hey, "I fucked up!" is my line! Thief. 
I relied on a lot of sources to research this article, especially UPROXX and Deadline. Just covering my ass. Don't want to LeBeouf myself.
(by Johnny McNulty)