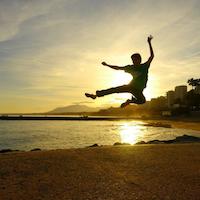 Filed by Mitchell Friedman

|

Jan 04, 2017 @ 10:39am
Notorious weed-smoker Snoop Dogg and infamous pot-smoker Willie Nelson share many things in common, including their mutual love of marijuana and smoking marijuana. Apropos of ganja, here's the Christmas sweater Snoop Dogg gave Willie Nelson for the holidays.
Apparently, the two dudes run in the same weed circles, and even hosted their own personal 420 summit in Amsterdam once.
"This is the best thing I've ever heard in my lifetime," said Jimmy Fallon, who considers most things the best thing.
Snoop Dogg even gave Nelson a piece of chicken they both coveted.
Next up on your list of marijuana fantasies: Willie Nelson covers "The Next Episode." Make it happen, Fallon.