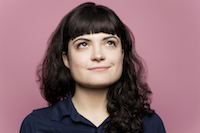 Filed by Jaime Lutz

|

Apr 04, 2016 @ 4:37pm
Taylor Swift has a ton of obsessive fans, so of course she needs a particularly hardcore bodyguard to accompany her in public places like amusement parks. Here is the pop singer in Disneyland with model Lily Aldridge and Aldridge's daughter Dixie on the Radiator Springs Racers ride. But the first person you look at in this photo won't be the two lovely women or the cute kid. It will be Swift's bodyguard, the sour-faced man sitting behind them having zero fun on a rollercoaster ride.
A photo posted by Taylor Swift (@taylorswift) on
In Taylor Swift bodyguard's defense, she seems like the kind of adult who is a little too into Disney, you know? Must be tough to deal with.