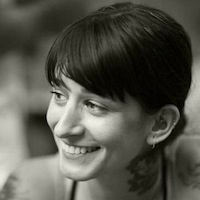 Filed by Jessie Dean Altman

|

Aug 10, 2016 @ 1:40pm
The second season of Scream Queens starts in September, and on Monday, star Lea Michele did a Facebook live video promoting it, along with two of her new costars, John Stamos and Taylor Lautner. At some point in video, the talk switches to past relationships (remember when John Stamos dated Paula Abdul?), and Michele asks Taylor Lautner (of Twilight werewolf fame) about dating Taylor Swift (T-squared).
John Stamos, Lea Michele, and Taylor Lautner are with us LIVE at the FOX TCAs! Send us your questions below.

Posted by Scream Queens on Monday, August 8, 2016
"You dated Taylor Swift, I remember that. Didn't she write a song about you? I think it's something about a sweater and a hat, right? It's like, 'your hat in December!'" she asks Lautner. He doesn't seem too into talking about it, but eventually gives in and admits, "It's called 'Back to December.'"