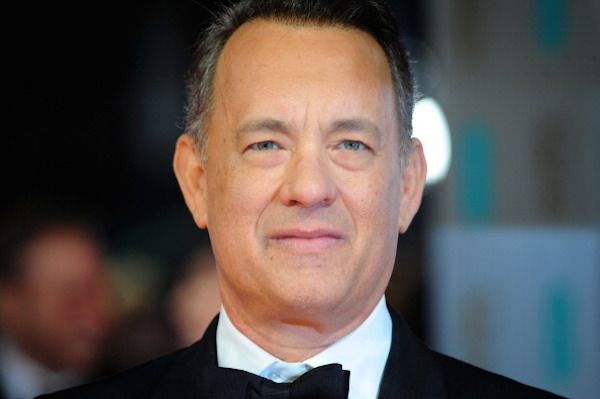 Johnny Madrid, as Tom Hanks. (via Getty)
As terrible as the massive recent hacking at Sony Pictures has been for the company, there may actually be a silver lining to the latest document dump which included the aliases of a bunch of celebrities who have worked with the film studio. Because if the group who call themselves Guardians of Peace (GOP!) are releasing the funny name Rob Schneider uses to call Uber, they may be running out of good material.
While sifting through the latest dump, Kevin Roose of Fusion discovered a folder containing "publicity bibles," which are used to compile contact information for celebrities, including the fake names they use in order to get a hotel massage without putting TMZ on high alert. Here are the names used by some of the actors who will be receiving gift baskets from Sony over the next few days:
Tom Hanks: goes by "Harry Lauder" and "Johnny Madrid" (the former of which was the name of a famous Scottish comedian, and the latter of which may be a reference to a character on Lancer, a 1960s Western series)

Sarah Michelle Gellar: goes by "Neely O'Hara" (probably a Valley of the Dolls reference)

Tobey Maguire: goes by "Neil Deep"

Natalie Portman: goes by "Lauren Brown"

Clive Owen: goes by "Robert Fenton" (his wife's name is Sarah-Jane Fenton)

Rob Schneider: goes by "Nazzo Good" (not so good – get it?)

Taye Diggs: goes by "Scott Diggs" (his real name)

Jude Law: goes by "Mr. Perry"

Daniel Craig: goes by "Olwen Williams" (an homage to his grandfather, Olwyn Williams)

Jessica Alba: goes by "Cash Money"

Ice Cube: goes by "Darius Stone" and "O'Shea Jackson" (the former of which was his character's name in XXX: State of the Union, and the latter of which is his actual name)

Debra Messing: goes by "Ava Harper"

The prime suspect in the case is North Korea, which may have orchestrated the hack in response to The Interview, the movie starring Seth Rogen and James Franco which makes fun of Kim Jong-un. If that turns out to be the case, the fact that a multi-national, multi-billion dollar operation like Sony could be take down by dial-up hackers in a country without basic cable is more embarrassing than even the worst Adam Sandler movie.
(by Jonathan Corbett)