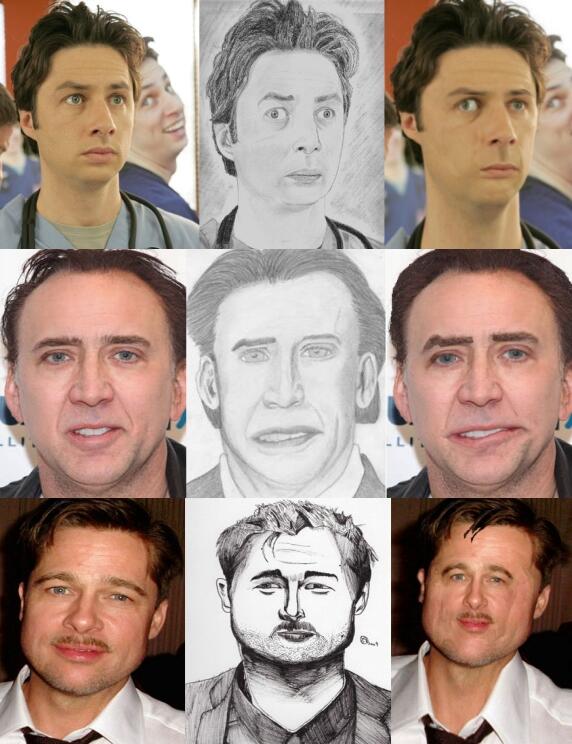 These drawings should be hanging on the walls of a terrible Hollywood steakhouse.
(via @JamieDMJ)
Fans have created god-awful, untalented-child-like portraits of their celebrity icons for as long as we've had celebrities, but thanks to the Internet, we can find treasure troves of them all over the Internet. As hilarious as it is to see how different these renditions are from their subjects, but until now we had not wondered how horrifying it would be if the drawings were accurate. 
Thanks to Twitter funny-person JamieDMJ, we now know. Apparently, fans live in a parallel universe with much more meritocratic society where talented actors succeed despite their horrible disfigurements.
I've photoshopped what some celebrities would look like based on their worst fan art. pic.twitter.com/cYdczcLrDB

— Jamie J (@JamieDMJ) March 10, 2014
I bet those fans think you did a terrible job capturing their work's likeness.
JamieDMJ is best known posting a fake rejection letter from Webuyanycar.com turning down his red and yellow Fischer Price Little Tike plastic foot-powered toy car, to which Webuyanycar.com responded by creating webuyanytoycar.com and donating the proceeds to charity.
Hopefully the trend continues. Start photoshopping, people.
(by Johnny McNulty)