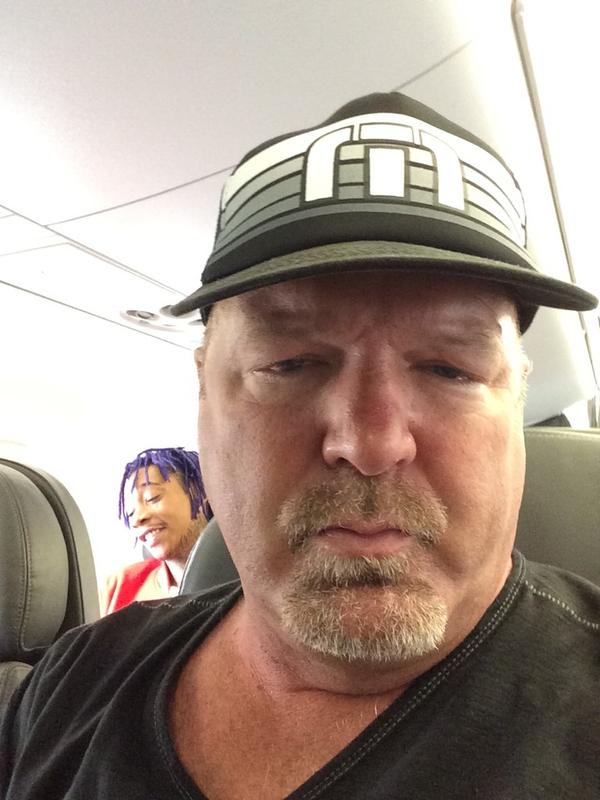 Your dad's eyes are a little red themselves, Benji.
Get ready to sort yourself into young and old, everyone. 21-year-old rapper/singer and Twitter person Benji got a photo from his dad today, who informed him he was sitting next to "some rapper whose (sic) super high" on a plane. Fortunately, this was no case of cringe-worthy mistaken identity. The dad was indeed sitting next to rapper Wiz Khalifa, who was almost certainly high (he claimed to spend $10,000 a month on cannabis before a medical dispensary started sponsoring him and selling a line of weed called Khalifa Kush). This was, however, the most perfect dad/pop culture interaction to take place on the Internet this year. This is crystalized dadness.
so my dad tells me he's sitting next to some rapper whose super high on his plane to Miami and then sends me this pic.twitter.com/3JW5pGFPVu
— Benji (@thebenjimusic) December 3, 2014
Sorry if you hadn't heard of Wiz Khalifa. I apologize if this article made you realize you've become a dad without even fathering children. The Pittsburgh-based rapper was named Billboard's Top New Artist of 2012, so you really have no excuse at this point. Nonetheless, here is his best-known song, Black and Yellow, so you can continue to pretend to know what's up.
(by Johnny McNulty)