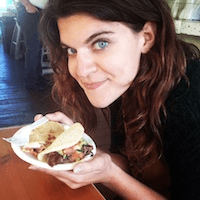 Filed by Kelsey Solywoda

|

Jun 03, 2017 @ 11:17am
Aside from being one of the most beloved actors of our time, Tom Hanks is somewhat of a social media darling. He sends selfies to fans, he photobombs weddings, and his Instagram is hilarious. But Hanks' latest tweet has the internet bugging out. On Friday, Hanks posted a photo of a rather ominous-looking building in New York City.
"This is the scariest building I've ever seen! WTF goes on inside??" he wrote. (And then he signed the tweet, "Hanx.") The building's height and lack of windows sent shivers up the spine of many of Hanks' Twitter followers.
Many had guesses as to what was inside.
That is where nightmares are made

— Joe Otterson (@JoeOtterson) June 2, 2017
It's where they make TV remotes that don't work

— Thomas Owens (@tprowens) June 2, 2017
The national covfefe center

— Jack Joseph (@Jack_Frodo) June 2, 2017
Some people thought there may be a certain SNL character roaming the spooky building's halls.
But, because it's 2017 and we can find anything out with the help of the internet, the building's true identity was soon revealed.
That's right! It's the NSA!
According to an investigative article by The Intercept, the building is situated in lower Manhattan. The 550-foot skyscraper used to be an AT&T building, known as the Long Lines Building, and is now used as a listening post for the NSA.
There's even a 10-minute documentary about it.
The short film is titled Project X, and was created by Laura Poitras and Henrik Moltke as a collaboration between The Intercept and documentary film company, Field Of Vision.
Well, that certainly took a turn. We're still choosing to believe that the building is occupied by David S. Pumpkins.