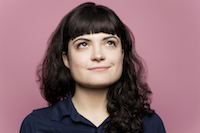 Filed by Jaime Lutz

|

Aug 14, 2016 @ 7:26pm
Tom Hiddleston was asked what he learned about "the culture of celebrity" after his "high profile summer" AKA how he's dealing with being real famous right now for dating Taylor Swift. And here is how he answered:
Meet your Emmy nominee: Tom Hiddleston from AMC's The Night Manager is LIVE. Leave your questions in the comments below.

Posted by The Hollywood Reporter on Friday, August 12, 2016
"We all live in a world where every phone has a camera and there's nothing new, really, about the spotlight on me; I think that's what happens when you're a public figure," he said. "I've learned that there are many sides to a story, and that sometimes there are a lot of stories out there which are false, and the hardest thing is to try to not let those falsehoods affect your own life. That's what I would say."