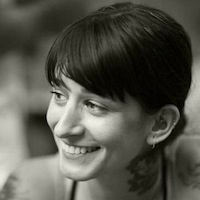 Filed by Jessie Dean Altman

|

Jun 05, 2017 @ 10:48am
Conservative pundit and snowflake hater, Tomi Lahren, tweeted about Alaska Airlines being the "most dysfunctional airline" on Monday. Unfortunately for her, her passive aggressive complaint got hijacked by a customer service rep (named Ryan) for the airline, who accidentally referred to her as "Tami."
And Twitter immediately started laughing and couldn't stop, especially rapper Wale, who tweeted:
Getting Tomi Lahren's name wrong has become something of a joke, ever since Wale himself called her "Tami" in his song "Smile."
Lahren pointed out via Twitter that Wale had gotten her name wrong.
So if you're gonna put someone in a song...diss 'em.. perhaps get their fricken name right next time @Wale

— Tomi Lahren (@TomiLahren) January 4, 2017
And Wale responded by getting her name wrong again (although this time definitely on purpose).
Anyway, people weren't sure if "Ryan" from Alaska Airlines was making a joke or had legitimately just gotten her name wrong.
Omg. You win the internet today. I'll fly Alaskan airlines from now when possible just for that typo. 😂😂😂

— Covfefe (@CovfefeInDaNorf) June 5, 2017
omg i am flying you forever, alaska air.

— Robyn Kanner (@robynkanner) June 5, 2017
Why does nobody respect Tammie?

— Wasting Time (@WastedTime240) June 5, 2017
Another Alaska Airlines (this one named Andre) representative confirmed that it was definitely a gaffe.
We really didn't mean to it really was a typo.
- Andre

— Alaska Airlines (@AlaskaAir) June 5, 2017
But the people of Twitter didn't want Andre, they wanted Ryan!
Shut up Andre...GIVE US RYAN!

— Tony Posnanski (@tonyposnanski) June 5, 2017
Ryan has single handedly brought in millions of dollars of new business for @AlaskaAir

— Roland Scahill (@rolandscahill) June 5, 2017
Ryan has made this shitacular week a touch better. Never forget Ryan.

— Tony Posnanski (@tonyposnanski) June 5, 2017
One commenter came up with an idea for resolving the situation.
I think @alaskasir should fix Tami's situation by comping her a free, one way flight out of the country!

— Ben (@BenPatz) June 5, 2017
For the record, Tomi's name is pronounced just like Tommy. Lahren explained this to fellow conservative Jesse Watters, when she appeared on his Fox News' show, "Watters' World." "It's Tomi, like the boys name. Lahren like Laryngitis," she said.