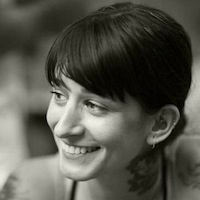 Filed by Jessie Dean Altman

|

May 10, 2017 @ 1:43pm
Stranger Things star Millie Bobbie Brown was in attendance at Sunday night's MTV Movie and TV awards, where she rocked a white dress with matching white cowboy boots. Pretty cute get-up for a girl of 13. But it seems not everyone thought she looked appropriate. Insider put Brown on the "worst dressed" list, claiming she looked "comfy but lost in a shapeless white dress."
But as the Twitter account @elevenstare (named, presumably, after Brown's Stranger Things character, Eleven) pointed out: She's THIRTEEN. What's she supposed to wear, a bustier and mini skirt?
A lot of other people on Twitter agreed.
@ChicKestrel17 Don't you know if we don't put down woman when their young they'll grow up with confidence and a strong mind, don't want that :////

— The Void Mother™ (@Calaveratron) May 9, 2017
@Calaveratron No, you know what it should say? "BEST: 'Stranger Things' star Millie Bobby Brown looks comfy and so cute in a loose white dress

— ☢️INFECTED BIRBPUP☢️ (@ChicKestrel17) May 9, 2017
Let's wait until Brown is an adult before we start judging her for her outfit choices, yeah? Or we could just not judge people at all—LOL, just kidding!