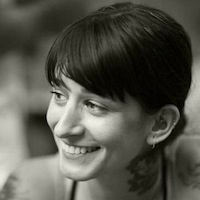 Filed by Jessie Dean Altman

|

Dec 27, 2016 @ 1:14pm
Ladies and gentlemen, sad news—Carrie Fisher, beloved writer, performer, and space princess, has died. She was 60. Goddamn you, 2016!
Here's how people on Twitter are dealing with her death.
1.
Seriously folks, this might be the rapture.

— Jamelle Bouie (@jbouie) December 27, 2016
2.
3.
How about we keep Carrie Fisher and kill Scalia twice?

— Jaya Saxena (@jayasax) December 27, 2016
4.
5.
Carrie Fisher was brilliant and funny and took no shit and I'm really fucking bummed that she's gone.

— Dana Schwartz (@DanaSchwartzzz) December 27, 2016
6.
7.
Carrie Fisher was a part of my childhood and someone I would've loved to just hang out with and shoot the shit. I'm sad to hear she's passed

— pat tobin (@tastefactory) December 27, 2016
8.
9.
Let's stop talking about how 2016 can't get any worse because it seems to think that was a challenge and it has a few more days to fuck us.

— OhNoSheTwitnt (@OhNoSheTwitnt) December 27, 2016
10.
Which one of you showed Death my heroes list?

— Solomon Georgio (@solomongeorgio) December 27, 2016
11.
It's hard seeing people make funny, poignant observations about Carrie Fisher's life because Carrie Fisher did that best.

— Louis Virtel (@louisvirtel) December 27, 2016
12.