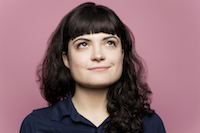 Filed by Jaime Lutz

|

Apr 06, 2016 @ 2:06pm
Rapper Tyga has finally weighed in on the engagement of model (and mother of Tyga's child) Blac Chyna and reality star Rob Kardashian. For Kardashian-followers (Kardashian anthropologists, if you will), this is big, messy, exciting news. Here's why even you, person-who's-going-to-write-an-angry-comment-about-the-Kartrashians, should be fascinated by this matrix of fame and sex:
A post shared by Blac Chyna (@blacchyna) on
To break it down: Rob Kardashian, 29, is the brother to Kim, Kourtney, and Khloé Kardashian, as well as the half-brother to Kendall and Kylie Jenner. 18-year-old Kylie is currently dating 26-year-old Tyga, who used to be engaged to 27-year-old Blac Chyna and who has a 3-year-old son with her. If that's not complicated enough, Blac Chyna also is good friends with Kanye West's ex, Amber Rose— and Kanye is, of course, currently married to Kim Kardashian. Everything is complicated as f*ck, so thank God that a grown man dating an 18-year-old girl is here to speak reason.