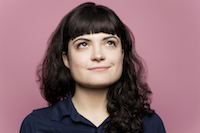 Filed by Jaime Lutz

|

Mar 11, 2016 @ 6:05pm
Tyra Banks used to be pretty harsh about contestants' fashion choices on the (routinely amazing) reality show America's Next Top Model, but it turns out she wears stupid clothes sometimes too. She admitted as much in a #TBT Instagram post from yesterday, captioned "Everyone makes mistakes."
A post shared by Tyra Banks (@tyrabanks) on
That very cleavage-y dress is what Banks wore to the 2004 America's Next Top Model finale party. But Tyra, you've made much worse fashion decisions than that! This one's kind of fun in a Spice Girls kind of a way!