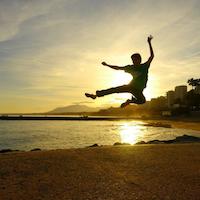 Filed by Mitchell Friedman

|

Apr 28, 2016 @ 3:39pm
If you've come to see Usher's penis, welcome. You made it. But just as Usher orchestrated in a super-long Snapchat story Thursday that ended in his dingus, you'll have to make it all the way to the end before you see it. In the story, Usher led his loyal followers through an uneventful day.
First you had to see Usher look at things.
And you had to look at what might be a cartoon of Usher, with a suspicious doodle where his nose should be that foreshadows the photo to come.