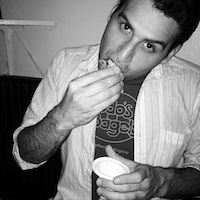 Filed by Jake Currie

|

May 22, 2015 @ 10:39am
Squid people, Monster Taylor Swift, and skeletons are just some of the additions.

"Ahhhhhhh! Carbs!" (screenshot via YouTube)
Just when you thought you were done with this song, they pull you back in. This time you can blame the 49 talented animation students at the University of Newcastle for getting the song stuck in your head again. For their Animation 1: Design from Animation class the instructor split up the nearly 3,000 frames of footage in 52-frame chunks and assigned each student to rotoscope them.
Rotoscope is an animation technique that involves tracing over film footage, like the video for A-ha's "Take On Me." (If you're too young for that reference it was also used in A Scanner Darkly.)