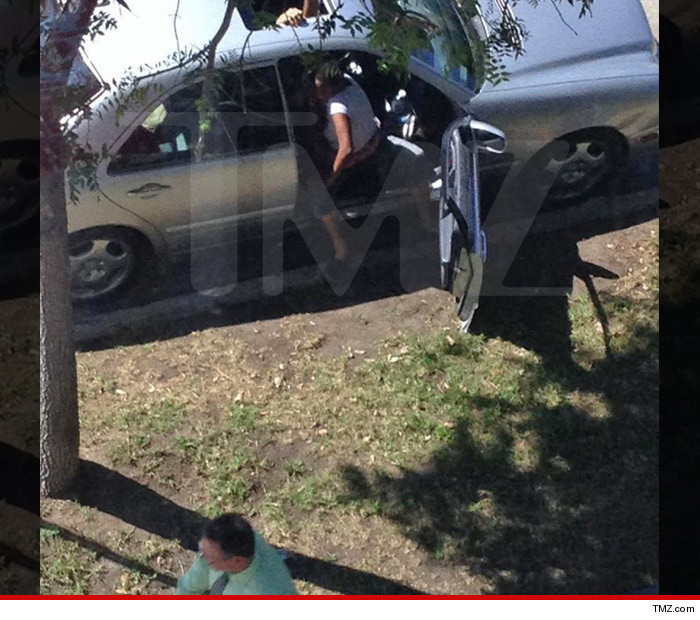 It's a nice day for it, at least. (via TMZ)
Yeah. Here's a tip for anyone, like 'Django Unchained' actress Daniel Watts, who gets arrested for boning in the passenger seat of your car while hanging out the open door: don't start a national brouhaha by refusing to hand over ID and then claiming that you were assaulted and falsely accused of being a prostitute just because you are black and your husband is white. 
You were doing the nasty while holding the roof of the car for support with your shirt pulled up around your boobs and your husband's feet on the asphalt after people at a nearby office building had already asked you to stop. They even witnessed you use a tissue to clean up and then throw it on the ground. 
And inevitably, TMZ found pictures of it. If it happened in daylight, TMZ will find a picture of it, as they did of Watt's initial arrest, which propelled this incident to fame before TMZ found out it wasn't true:
In short, you accidentally ended up doing a big favor for the kinds of people who like to dismiss real cases of police abuse. They don't need favors. Also, you falsely told people that it was OK to refuse to give ID to the cops, because of "activism." Granted, white people carrying guns in public pull that shit all the time and cops let them get away with it. The way the law is applied sucks. I know it sucks. It sucks. That said, the ACLU advises people to give the cops ID, and this is how people who are not actresses end up in detention limbo for weeks at a time. I'm not saying the cause isn't just, I'm saying this is reckless.
Police abuse is a huge problem, and I understand the urge to say "fuck the police," but encouraging people with less power than you to fuck with the police could get them hurt. The police aren't the nicest or most patient people around, so maybe try to encourage change rather than encourage people to provoke them face to face.
(by Johnny McNulty)