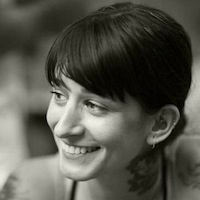 Filed by Jessie Dean Altman

|

Sep 01, 2016 @ 1:29pm
Zooey Deschanel, she of the famous bangs, was a guest on Jimmy Kimmel Live! recently. She told a story about her daughter Elsie Otter's first words. And yes, they were as quirky and cute as you might expect. They were also incredibly useful.
Deschanel says that her husband taught their year old daughter to say "cheese" because she likes it so much. (Don't we all?) She also knows how to say "more" in American sign language (ASL). So it makes perfect sense that the little girl would ask for "more cheese," in the morning, because what better way is there to start the day?