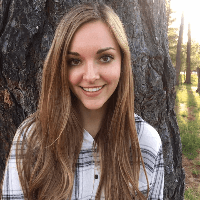 Filed by Nicole Anderson

|

Jun 12, 2017 @ 3:33pm
She's Australian
If you have seen Netflix's '13 Reason's Why' then you may think Katherine Langford sounds like a natural American. However, she's Australian. Katherine was born in Perth, Australia on April 29, 1996. Katherine grew up in Applecross, which is a riverside suburb of Perth. Her parents are Elizabeth and Dr. Stephen Langford. Her father is the director of medical services at the Royal Flying Doctor Service.
She's Not in High School
Although Katherine played Hannah Baker, a sophomore at Liberty High School, she just recently celebrated her twenty-first birthday. Katherine has been out of high school for a while but claims that she had always dreamed of being an American high school student.
In an interview with Popsugar Magazine, Katherine explains, "This may just be me, but I feel like everyone's dream is to live as an American high school student. There are so many teen films set in America that you live vicariously through them, anyway. But it was totally different. I got to experience Halloween, and prom, and cheerleaders...and the Fourth of July! It was crazy. It was definitely different. For me, personally, it was so weird and bizarre because it actually felt really, really realistic. I think it was partly because we were shooting in an actual school and the extras we used are actual high school students."
She Can Sing
Katherine began taking voice lessons in 2005 and was trained in classical, jazz, and contemporary vocal training.
Katherine is Athletic
Katherine first attended Penrhos College and then moved to Perth Modern School, which was a public school for the gifted located in Subiaco, Western Australia. There she became a nationally ranked swimmer.
Acting Was Not Her First Choice
When Katherine first started high school, she was interested in medicine and politics, in addition to musical theater. After attending a Lady Gaga concert in 2012, Katherine was inspired by her performance and decided in that moment to learn piano. She was 16 years old.
A post shared by KATHERINE LANGFORD (@katherinelangford) on
After that concert, Katherine also decided to quit her school's swim team and take up music and performance for her last year at Perth Modern. She went on to appear in the school's production of Hotel Sorrento in 2013. She graduated in 2014, before going on to achieve a diploma of musical theater at Principal Academy.
After graduating high school, Katherine signed with an agent and began taking acting classes and workshops. She appeared in many plays, including a production of Godspell, where she played Morgan. She also portrayed the role of Eva Perón's mistress in the 2015 production of EVITA at the Koorliny Arts Centre in Perth. Following these roles and her National Institute of Dramatic Arts (NIDA) Advanced Actors Residency in 2015, she was offered an acting position in the Bachelor of Arts program at the Western Australian Academy of Performing Arts. She decided to pursue professional acting roles instead of attending in 2016.
'13 Reasons Why' was Katherine's First T.V. Show
Katherine appeared in a few small independent films in 2015, including Misguided, Imperfect Quadrant, and Daughter. She portrayed the lead character, Scarlett, in Daughter, which debuted at the 2016 Cannes Film Festival.
When she landed the role of Hannah Baker in Netflix's '13 Reasons Why' it made Katherine an overnight sensation. '13 Reasons Why' is not only Katherine's first television series, but it's also her first major acting role of any kind.
She was Hired Over Skype
Katherine auditioned for the role of Hannah Baker over Skype and got the part. In an interview with Popsugar Magazine, Katherine explains, " The actual network test I did over Skype, so I didn't get to see anyone or be super involved in the casting process, but I think Selena and everyone who chose to cast us was so elated. Particularly for me, I had never done anything before."
Katherine Had 10 Days to Get an O-1 Visa
She continued telling Popsugar Magazine, "I got a call saying they wanted me, but we only had 10 days to get an O-1 visa. Anyone who's ever tried to get an O-1 visa knows that is not something you can usually get in 10 days, so for me, the support was there right away. I truly believe this project is in the right hands and has always been in the right hands because it's in the hands of people who really care about what they're saying. Selena's lovely."
Her Instagram is Public Thanks to Selena Gomez
A post shared by KATHERINE LANGFORD (@katherinelangford) on
Selena Gomez knows what it's like to live in the public eye, and she was the perfect person to talk to the newcomer, Katherine Langford, about it. Katherine was a little-known actress from Australia. After being cast as the lead in Netflix's '13 Reasons Why', Katherine had to navigate life in the spotlight. Since Selena Gomez was the executive producer of the show, Katherine didn't have to look far to get her advice.
Selena's advice was for Katherine to go public on her Instagram account. According to The Last Magazine, Katherine explained, "It was a bit of a big decision for me actually because I wanted to be an actor purely for the acting work. I have never been attracted to increasing my popularity or hireability by being on Instagram. I didn't want to make myself a consumable product. I just wanted to be able to do my job and then disappear."
Ultimately, Selena convinced her that it would be a good thing, not a bad one.
"Selena pointed out that the show is targeting young adults like me and that [social media] is a good medium to talk directly with those who relate to my character, Hannah," Katherine said.
Katherine's first public post was in February, and she looks a little scared.
Katherine Has Nudes
During an interview that Katherine did with Jimmy Fallon, she was explaining her love of Lady Gaga, and how she found out that Lady Gaga had tweeted her.
Because Katherine was such a big fan of Lady Gaga's, everyone knew she would be ecstatic. She tells Jimmy Fallon that she returned to her dressing room with a bunch of missed calls and messages from her publicist saying, "'Katherine you have to go on to Twitter right now', Katherine explained in the story. "And I thought 'oh sh*t my nudes have leaked'! Like that was my thought."
Although no nudes have been circulating the internet from Katherine recently, she definitely confirmed that she has some.