Jessica Simpson has beef with Natalie Portman and between this and George H.W. Bush's funeral, the '90s are back, baby!!!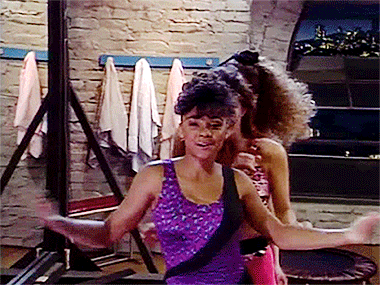 Simpson is mad at Portman for a comment on how the media wants young women to be both virgins and vixens.
In an interview with USA Today, Portman discussed the double standards the media held for pop stars in the late 90s and early 2000s, demanding they be both the "madonna" and the "whore."
"I remember being a teenager, and there was Jessica Simpson on the cover of a magazine saying 'I'm a virgin' while wearing a bikini, and I was confused," Portman told to USA Today. "Like, I don't know what this is trying to tell me as a woman, as a girl."
The comment clearly faulted the media for its mixed messaging, but Simpson did not appreciate being mentioned—and interpreted it as a swipe against her.
Simpson responded to Portman in a screenshot that didn't actually @ her.
"I was disappointed this morning when I read that I 'confused' you by wearing a bikini in a published photo taken of me when I was still a virgin in 1999," Simpson wrote.
"As public figures, we both know our image is not totally in our control at all times, and that the industry we work in often tries to define us and box us in."
Simpson then brought up Time's Up and appeared to be calling Portman a hypocrite. She also added women shouldn't be ashamed of showing their bodies, which is likely something Portman agrees with, too.
People were not impressed by Simpson's reading comprehension skills.
Reading it, I don't think she was judging you but more the teen pop image that had a double standard on young women - being sexy and coy, but being innocent and virginal. Like when there was a lot of press that Brittney lost her virginity to Timberlake.

— TANYA LUA (@tanyalua) December 5, 2018
Girl, that was not an attack on you. She was more speaking on the tightrope women are pressured to obey where we have to be sexy but pure. That wasn't a personal attack on you.

— 🌙✨ (@Anvkii) December 5, 2018
It's an attack on the way the media fetishised/sexualised teenage stars' virginity and the message that sent, not on Jessica . I think Jessica touches on the same issue when she points out that she often wasn't in control of that image and they tried to put her in a box

— Hollie (@HollieTheNerd) December 5, 2018
Portman then commented on Simpson's Instagram, and her team made sure everyone saw it.
"I only meant to say that I was confused - as a girl coming of age in the public eye around the same time - by the media's mixed messages about how girls and women were supposed to behave," Portman said. "I didn't mean to shame you and I'm sorry for any hurt my words may have caused."
Aaaaaaaaand scene.