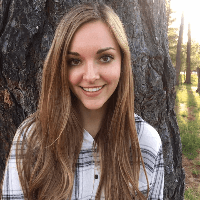 Filed by Nicole Anderson

|

Jun 07, 2017 @ 7:39pm
Who Is Joy-Anna Duggar?
We first got to know Joy-Anna Duggar on her family's reality show, '19 Kids and Counting'. Joy-Anna is Michelle and Jim-Bob Duggar's 9th child and 5th daughter. She was born on October 28, 1997, in between a surge of boys, and spent most of her childhood playing with her brothers. Joy-Anna's older sisters often referred to her as a tomboy growing up. There was a decent age gap between them, but things have been changing as Joy-Anna has matured. It wasn't until Joy-Anna appeared in recent seasons of their spin-off show, 'Counting on', that she began to really spend time with her older sisters, and flaunt her feminine side.
Joy-Anna Is the next Duggar Girl to Get Married
The Duggar family confirmed on their website that Joy-Anna and Austin Forsyth are happily married! They even wrote a sweet message to the happy couple.
"What an absolutely wonderful day our family will always treasure. As parents, we could not be more grateful for the godly woman Joy has become, and the loving husband she married!" Jim-Bob and Michelle wrote. "We love you, Joy and Austin and are so happy for you both, as you embark on this exciting journey together!"
The Duggars Believe In a Quick Engagement
Joy-Anna is just 19 years old, and Austin is 23. They began their courtship in November, only a few days after her sister Jinger's wedding to Jeremy. However, the two have apparently been close friends for almost 15 years. This might help explain their quick, three-month engagement. When you know, you know.
Shortly after the couple announced their engagement in March, Austin took to Instagram with captions saying, "Can't wait to be married to my mrs perfect" and "God wanted us to be more than just friends #God #blessed #morethanfriends."
The Duggar Family Does Life a Little Different
They say marriage changes you, and that's definitely true for the Duggars, who live very conservative lives. The large family holds their Christian values extremely high, and have some uncommon views when it comes to wardrobe, relationships, and married life. They strongly believe that all the women in the family should only wear skirts or dresses. They think it is more modest than shorts or pants.
Michelle Duggar was a cheerleader in high school. She was popular and had boyfriends that she kissed. When Jim-Bob found out, he was extremely jealous. The two decided that this was not a healthy way to start a marriage, and so they teach their kids that kissing should be left for the wedding day.
They also believe in dating with a purpose, aka courtship, and not holding hands until you're engaged. On top of all that, the family does not seem to believe in birth control. When Jim-Bob and Michelle were first married, she got pregnant while taking the pill, and then had a miscarriage. This caused them to feel guilty, and so they chose to use no protection in the future, which is how they wound up with 19 kids.
Joy-Anna Duggar Can Finally Relate to Her Siblings
With these strict rules and guidelines, it must be hard to find people who relate to you. Now that Joy-Anna is married, and will probably be getting pregnant in the near future, she will really be able to bond with her sisters and ask them for advice. Three out of her four older sisters are married now. Jessa Duggar just gave birth to her second son, Henry, and Jill is pregnant with her second boy as well. There is no word about Jeremy and Jinger yet, but rumors are swirling that Jinger may be pregnant also.
Joy-Anna and Austin are Having a Beautiful Honeymoon
There is a lot of excitement to come in the Duggar family, but currently, Joy-Anna and Austin are being newlyweds and enjoying a beautiful honeymoon. They appear to be spending a lot of time together hiking and camping. Joy-Anna has always been the outdoorsy type, so this seems perfect for her.