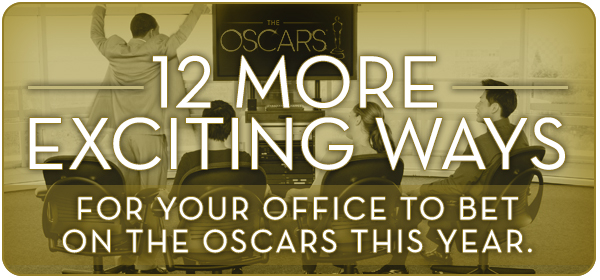 Gambling on the Oscars is directly against HR guidelines, and also probably the most important team-building (and team-destroying) activity in the office every year. It's got wider appeal than March Madness and there are less hurt feelings than betting on who will humiliate themselves at the Holiday party. But just guessing the winners is boring! Besides, most people do a much better job watching the Oscars than actually watching Oscar-nominated movies every year, and there's a lot more excitement to be had there than in some fancy movie. Here are 12 better ways you can bet on the Oscars this year.
 
1. Shia LeBouf comes out with a bag on his head reading "I AM NOT PRESENTING ANYMORE." Odds —2:1
 
2. Billy Crystal makes a cameo and a joke from 1996. Odds - 4:3
 
3. Robert DeNiro chuckles politely at his obligatory mention in the opening monologue but is secretly wounded emotionally. Odds - 4:1
 
4. Seth MacFarlane rewatches his "We Saw Your Boobs" song at home on DVR again. Odds—3:2
 
5. Someone tepidly and vaguely alludes to politics and gets chewed out on Fox News as if they had actually taken a stand on something. Odds—3:1
 
6. A presenter humbly reminds Hollywood that society leads them, not the other way around. Odds—27855:1
 
7. There will be fewer than 10 jokes about how great Meryl Streep is. Odds—22:1
 
8. Tyler Perry will announce his nominations for his own awards show: "Tyler Perry Presents The Tylers", which recognizes excellence in Tyler Perry productions. Hosted by Neil Patrick Harris. Odds—7:1
 
9. People you're watching the Oscars with will know the words to any of the Best Songs besides that annoying one from Frozen. Odds—1600:1
 
10. Jennifer Lawrence won't say anything adorable, trip over something adorably, adorably photobomb someone, or adorably freak out over the paparazzi freaking out over how adorable she is. Odds—A Bazillion:1
 
11. Someone will make the "stretch it out" sign during an acceptance speech because the show is running so fast. Odds—HahahahaJK:1
 
12. Goldie Hawn and Kate Hudson will, like everyone else, suddenly remember that they're actually mother and daughter. Odds—4:1
Share your own Oscar bets in the comments. 
(by Johnny McNulty, graphic by Cole Mitchell)