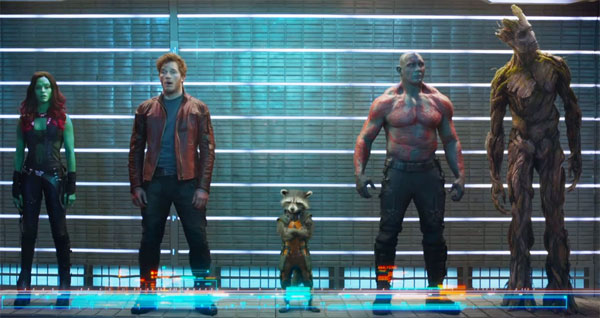 Wow! This is gonna be the very best, unless it's the very worst! (via)
Whoa! Did you see the first trailer (see below) for the upcoming Marvel films sci-fi action adventure film The Guardians of the Galaxy? It really blew me away, and I am super excited to see this movie. And I am super terrified to see this movie. I want it to be good so bad! But I am so afraid that maybe it's going to be so bad! Though, I will say that it has a lot of things going for it. Unfortunately, all of those things are precisely the things that I'm afraid might make it terrible. For example:
 
1. It has a talking raccoon and a walking tree in it!
Two of the main characters in the movie are Rocket Raccoon—a genetically modified former lab specimen who taught himself to pilot a spaceship—and Groot—an incredibly strong, sentient, perambulating tree. Do you have any idea how cool that is?! Neither do I! It could be amazing or it could be terrible. CGI characters have come a long way over the years, to the point where they seem practically real. But they're still kind of a gamble. Especially for such prominent characters. You can guarantee that if The Guardians of the Galaxy is the financial and critical success we're all hoping it'll be, these two weird characters will be remembered alongside such iconic movie characters as Chewbacca and Gollum. If not... Well, the world needs Jar Jar Binkses, too.

2. It features the voices of Bradley Cooper and Vin Diesel.
For what it's worth, Rocket and Groot are voiced by two very bankable A-list movie stars: Bradley Cooper and Vin Diesel. Which is awesome! Kind of. We already know that Cooper is giving Rocket a cockney accent, so he's not gonna sound anything like himself. And even if Diesel does sound like himself, so what? He's not exactly hired for his unrivaled thespianic skills. Of course, he did voice the Iron Giant. Which was a robot. Still, though, even if these two don't end up adding a whole bunch of street cred to the project, there's still a fantastic cast of actors who are actually in the movie. Though most of them aren't really household names. But, you know, that sexy blue lady from Avatar? She plays a sexy green lady in this. And that goofy guy from that one sitcom... Uh, Chris Pratt. He's a rising star, don't you think? Which reminds me...

3. Chris Pratt isn't your typical action star.
Chris Pratt has made a name for himself as the really funny, really dumb guy from NBC's Parks and Recreation. Isn't it cool how he's getting the lead role in a sci-fi action movie? Isn't that ballsy? Well, it certainly is ballsy! And I think it's cool. However, I have a history of thinking lots of things are cool that the rest of the country does not think are cool at all! Nobody knows if Pratt can carry a movie this big. I think we're all rooting for him, but would we bet the fate of the six Infinity Stones on it? Hey, this could very well be Pratt's breakout role, the one that introduces him as a real deal A-list star, capable of carrying a movie, the way that Die Hard did for that quippy guy from Moonlighting. Or... It could be what every movie did for that very serious guy from NYPD Blue.

4. It seems to have a really quirky sense of humor.
One of the things you'll notice when you watch the trailer is that The Guardians of the Galaxy has a really interesting, playful tone, a lot like its quirky sci-fi spiritual predecessor The Adventures of Buckaroo Banzai Across the 8th Dimension. Or is it more like its quirky sci-fi spiritual predecessor Howard the Duck? Oh, I don't know. I know that I like its director James Gunn, and I trust him implicitly. He's really shown himself to have a spot-on sense of humor, like when he wrote and directed the low-budget indie Super. But not so much like he when he wrote the big-budget studio film Scooby Doo. So, um... Yeah.

5. This is really a "comic book" movie more than a "superhero" movie.
One of the things that struck me about this trailer is that, though it's based on a Marvel comic, it doesn't really seem to be a "superhero" movie. It feels like it takes place in the kind of bizarre cosmic/fantasy universe one commonly finds in a comic book, though. Most people who don't read comics think of the terms "superhero" and "comic book" almost interchangeably. But that's not always the case. I think it's great that Marvel is pushing out away from the superhero elements that everyone associates with its brand and presenting some less familiar fare. And I hope that the rest of the movie-going world feels the same way. And, for that matter, all of the movie-going worlds. And all of the movie-going dimensions.

6. These are brand new characters that most people have never even heard of before.
None of my friends or family have ever heard of Star-Lord or Gamora or Rocket Raccoon before this film arrived. Hell, I never heard of them. And I'm a total dork. This is kind of a deep cut for Marvel. They're really reaching way into their catalogue here. Which is a brilliant strategy for them, unless it's not and it turns out that nobody cares about Star-Lord or Gamora or Rocket Raccoon. In which case, it's a terrible strategy for them.

7. This is a great example of Marvel taking risks while DC plays it safe.
One of the big online talking points about this movie is that, while DC isn't brave enough to make a solo Wonder Woman film, Marvel is making one with Rocket Raccoon. And that's kind of a very decent point. DC seems set on making realistic-feeling superhero movies, just as Marvel is getting increasingly funky with its film choices. Marvel is inviting the audience into its weird world with films like this and Thor: The Dark World, while DC is bringing its characters into ours with Nolan's Dark Knight trilogy and Zach Snyder's Man of Steel. One plan is definitely safer than the other, but I have no idea which one is playing it smarter. Though, I can say that personally I prefer the one that give us movies that look like this: 
 

It's nice to know that the songs of Blue Swede are appreciated on both ends the galaxy.
(by Dennis DiClaudio)