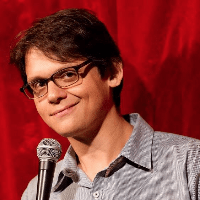 Filed by Matt Nedostup

|

Dec 16, 2015 @ 3:40pm
After Mondays's premiere of Star Wars: The Force Awakens, HitFix's Drew McWeeny noticed two names in the end credits that are sending comedy nerds across the Internet into "Ewok party" levels of excitement. Among the many actors, crew members, and bajillions of animators, two names were listed next to "BB-8 Vocal Consultant:" Bill Hader and Ben Schwartz.
That's right: Bill Hader of SNL/Trainwreck/Stefon fame, and Ben Schwartz, beloved for his role as Jean-Ralphio on Parks and Recreation. As far as comedy heavy hitters go, these two are a couple of Death Stars. McWeeny reached out to Hader for comment, who explained what his role as a "vocal consultant" was:
JJ f**king around with this sound effects app on his iPad that was attached to a talk box operated by me. It looked ridiculous but it made BB-8's voice. At first I tried doing a voice, but we all agreed it sounded too human.