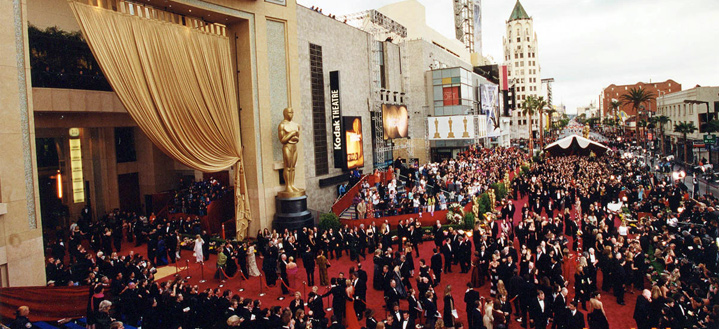 Smoke break during the 2013 Oscars. (via the Academy Awards)
2013 will be remembered for a lot of things. Unfortunately many of those things involve Miley Cyrus and twerking. The good news is that it will also be remembered as a great year in film. And at a time when a night at the movie theater costs sixteen bucks ($37 including snacks), it's a good thing that many from the movie class of 2013 were worth it.
Here are the nominees, along with the likely winners and losers of the 2014 Academy Awards.
BEST ACTOR
Mathew McConaughey
Bruce Dern
Leonardo DiCaprio
Chiwetel Ejiofer
Christian Bale
Likely Winner: Mathew McConaughey. Everybody loves McConaughey. The only downside to rewarding him for a 40 pound weight loss is that it could add to a growing problem in Hollywood; Oscar body modification. If McConaughey takes home the gold, by the next morning every A-list agent in town will be scrambling to find scripts with a role for a tattooed, cross-eyed anorexic.
Likely Loser: Christian Bale. Bad year to gain forty pounds for a role. People are considerably less impressed that you ate a dozen doughnuts for breakfast every day for months while an actor in the same category was sipping lemon tea for dinner. And was it really necessary to pile on forty pounds to play a guy no one has heard of? Considering that audiences were willing to buy Jennifer Lawrence as a Long Island mother of a 9 year old, I'm pretty sure they would've embraced Bale with a pillow under his suit.
Snubbed: Johnny Knoxville.  Bruce Dern is a fine actor, but it's not that hard to play an old guy when you're already an old guy! And Matt McConaughey loses forty pound for a role and everyone is kissing his ass, yet Knoxville tacks on forty years for Jackass Presents: Bad Grandpa and the Academy won't give him the time of day. Terrible oversight.
BEST ACTRESS
Merryl Streep
Sandra Bullock
Judy Dench
Cate Blanchett
Amy Adams
Likely Winner: Cate Blanchett. I haven't seen Blue Jasmine, but all anyone ever says about it is that Cate Blanchett's performance is fantastic. Maybe so, but tapping into psychotic bitch mode has to be a little easier when you're working between Alec Baldwin and Woody Allen.
Likely Loser: Judi Dench. No doubt lots of people will vote for Dame Judi Dench the same way basketball fans vote Kobe Bryant into the NBA All-Star game every year despite the fact that he hasn't been putting up All-Star numbers in years. And just like Kobe in the All-Star game, Judi Dench can still hit the open jumper, but there's no way she's stopping Cate Blanchett from getting to the rim.
Snubbed: Scarlett Johansson. As someone who couldn't imagine falling in love with a computer operating system (Despite having dated plenty of ones and zeros. Folks!), Scarlett Johansson is so effortlessly sexy as the voice of Samantha that it's not hard to imagine Joaquin Phoenix falling for her (Or at least tugging to her. Boo!).
BEST SUPPORTING ACTOR
Jared Leto
Bradley Cooper
Jonah Hill
Michael Fassbender
Barkhad Abdi
Likely Winner: Jared Leto. He's so pretty he probably received some votes for Best Supporting Actress. He also lost a lot of weight for the role, and at the Golden Globes mentioned the extensive waxing for good measure. When it comes to hair he's not exactly Tony Shalhoub, so the waxing will likely not be a factor. But it's a veteran move and Academy voters love an actor willing to play the game.
Likely Loser: Johah Hill. He missed an opportunity to kill two birds by not going for a part in Dallas Buyers Club. Unlike McConaughey, Jonah's a guy that could stand to lose forty pounds. He could've claimed to lose the weight for the role, and gotten himself into shape while landing a side gig as a spokesmen for Nutra Slim.
Snubbed:  George Clooney. Anyone remember his character's name in Gravity? Didn't think so. That's because he was playing Clooney! He could step into just about any movie and be Clooney and before you know it you're watching a better movie. Everyone knows the special effects are the star of Gravity, and Sandra Bullock is the lead as Sandra Bullock, but Clooney doing Clooney was the glue that made the whole thing work.
BEST SUPPORTING ACTRESS
Julia Roberts
June Squibb
Jennifer Lawrence
Lupita Nyongo
Sally Hawkins
Likely Winner: Lupita Nyongo. Despite being handicapped by a first name that sounds like an arthritis medication, in 12 Years a Slave she delivers a performance so powerful that just one three-hour movie can provide up to 24-hours of relief. So talk to your ballot about Lupita.
Likely Loser: June Squibb. If she can somehow get past the gauntlet of Lupita, Lawrence and Roberts, she still has to deal with Sally Hawkins in a Woody Allen movie everyone is pretending to have seen and loved. Not gonna happen.
Snubbed: Namik Winter for An Oversimplification of Her Beauty. Didn't see it, but anyone working on a film with a title that pretentious has to think they're doing something important, if not Oscar-worthy. I guarantee she was up at five in the morning "just in case!" She can officially uncross her fingers, and hope for a shot next year for Penelope Shares Her Bagel on the 7 Train.
BEST DIRECTOR
David O. Russell
Alexander Payne
Steve McQueen
Alfonso Cuarón
Martin Scorsese
Likely Winner: Alfonso Cuarón. Usually when people talk about how a movie made them feel nauseous, it's a good sign you're not winning an Oscar. But the action sequences are so exciting in Gravity that everyone seems to have overlooked dialogue that sounds like it was pulled from a late-night Facebook chat. Though there could be some backlash from frustrated writers who struggled way too long trying to get the accent over the "ó". (option+E, V)
Likely loser: Alexander Payne. Uh boy... I can't believe critics are still falling for the old black and white movie trick. Kevin Smith launched a 15-year reign of terrible after pulling off that trick back in 1994 with Clerks. Alexander Payne should know better.
Snubbed: Spike Jonze. He directed an incredible performance from Joaquin Phoenix as a man who falls passionately in love with a smartphone! No explosions, no chase scenes, I don't even think Phoenix raises his voice. Yet somehow it all works. He'll probably spend the rest of the week kicking around ideas for a black and white movie about a bank heist.
BEST PICTURE
American Hustle
Gravity
Captain Phillips
Dallas Buyers Club
Nebraska
Her
Philomena
12 Years a Slave
The Wolf of Wall Street
Likely Winner: American Hustle. The Oscars are more political than many Congressional races. And American Hustle has been running a pretty flawless campaign so far. The producers have done everything but go door to door in an effort to convince voters it's the best movie of the year. The truth is that the Oscars have never been about the best movies, they're a numbers game. Philomena, Nebraska and Her divide the pretentious vote by three. AIDS and Slavery cancel each other out. Same for astronauts and Navy SEALS. That leaves The Wolf of Wall Street, and Oscar voters have never embraced Leonardo DiCaprio, so I don't see them awarding him for a 3-hour party with hookers and cocaine.
Likely Loser: Philomena. A mismatched pair learning to get along on a road trip across America? I hated this movie more the first time, when it was called The Guilt Trip!
Snubbed: None that I can think of. The list of nominees is already too long as it is and two-thirds of the top ten grossing films were mindless junk.
FOREIGN LANGUAGE FILM
The Broken Circle Breakdown
The Great Beauty
Omar
The Hunt
The Missing Picture
Likely Winner: Omar. Haven't seen it, but how cool was Omar in The Wire? So cool that it could mean the difference between being an Oscar winner and explaining to people who you are and why they should let you into Elton John's after-party.
Likely Loser: The Hunt. Haven't seen it, but if you're serious about winning an Oscar as a foreign film at least make the effort to sound like one. The Hunt sounds like it could be a Steven Seagal movie from the 90's.
Snubbed: Blancanieves. See, The Hunt, it's not that difficult. Better luck next year.
(by Jonathan Corbett)