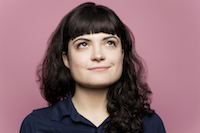 Filed by Jaime Lutz

|

Dec 10, 2015 @ 2:09pm
Carrie Fisher's daughter, actress Billie Lourd will apparently be appearing in the new Star Wars movie with her mom—and even though she's supposedly not playing the daughter of Fisher's Princess Leia in the film (that role may or may not be played by Daisy Ridley), she still is wearing Leia's famous hairstyle in a tribute to her mom, reported People.
You may also recognize Lourd from her work in Scream Queens (if you were one of the masochists who watched Scream Queens)​. Now 23, Billie was a huge Star Wars fan growing up. "I made [my mom] watch it at least once a week – and on special occasions I would make her get in a lightsaber fight with me," she told People. "Let's just say the more trained Jedi usually won."