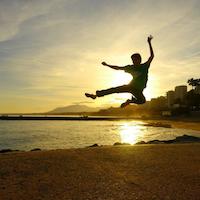 Filed by Mitchell Friedman

|

Jun 28, 2016 @ 3:05pm
In an interview with Radio Times, Harry Potter, also known as Daniel Radcliffe, said the "circumstances would have to be pretty extraordinary" for him to play his most iconic role again.
As Harry Potter and the Cursed Child makes its debut in London, it looks like the play's subsequent runs, if there are any, won't ever include Radcliffe. He's probably holding out to reprise the role in a Harry Potter movie that takes place in space.