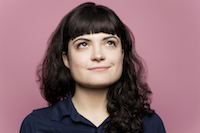 Filed by Jaime Lutz

|

Jun 16, 2016 @ 10:47am
Ellen DeGeneres told USA Today there's a transgender stingray in Finding Dory, and DeGeneres is voicing the title character in the movie, so she would know. However, DeGeneres is a comedian, so could she be... joking? Probably!
DeGeneres was asked about rumors that the newest Pixar movie included a lesbian (non-fish) couple. "I don't know if she is or if she just has a bad, short haircut," DeGeneres said. "Who knows if she's a lesbian?"