— Ellen DeGeneres (@TheEllenShow) March 3, 2014
Ever wonder how many A-list celebrities you can cram into a single selfie? 12. The answer is 12. Thanks for finding that out, Ellen!
Update: This just became the most retweeted tweet in history, briefly crashing Twitter for many. Smile you guys!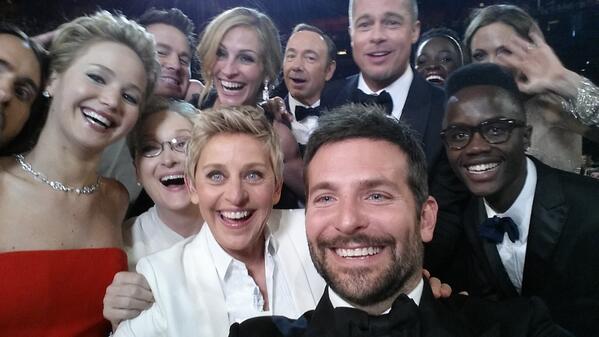 It beat out the previous champion, Barack Obama's "4 More Years" Tweet:
Four more years. pic.twitter.com/bAJE6Vom

— Barack Obama (@BarackObama) November 7, 2012
It's also the first tweet to ever break a million RT's. Imagine how many more it'd have gotten if Liza managed to squeeze in.
POOR LIZA. It's just not her night. #Oscars2014 pic.twitter.com/fovJayjbwA

— Harry Clayton-Wright (@HClaytonWright) March 3, 2014
(by Shira Rachel Danan)