The Fifty Shades of Grey trilogy is the series full of luxury lifestyle porn and actual softcore porn that gets your aunts all excited, but it's not nearly as sexy behind the scenes.
In an interview with Marie Claire, Dakota Johnson pulled the curtain on what goes into filming the simulated sexy time, something Jamie Dornan has discussed extensively in the form of his "wee bag."
Now Johnson has offered up the female perspective and it's.........not hot. Here's what she revealed.
They had sex scene shooting marathons.
If we could do all of the sex scenes in a day or so, that would truly be in the Guinness Book of World Records. A lot of it was dependent on the locations, and because we shot the second and third film back to back, the sex scenes were kind of grouped in all together for the most part. And some were not in those two weeks.
It's hard being blindfolded.
The most difficult one by far—I think in all three movies—was a sex scene in the third film where I was handcuffed with my arms and legs to the gate. It's like a fence thing that comes down. And I was blindfolded. And it was kind of shocking, because I didn't realize that no matter how prepared or rehearsed I was, when your senses are taken away like that, you can't control the way your nervous system will react. So it was really tricky to navigate that scene. It was kind of difficult.
They would do shots before shoots, but it never got easier.
It's never easy. It's not casual and it's not fun. It never got easy.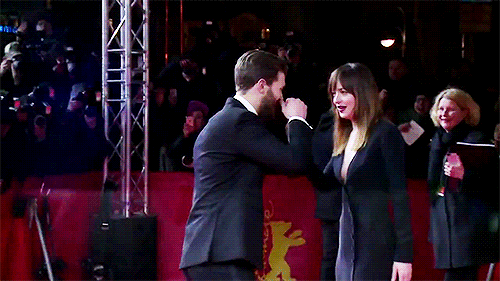 Johnson had to be a thong superglued to her nether regions.
I had these sort of strapless thongs that had glue on them. It's not glue, but it's sticky. They're, like, basically if it were a nipple pastie, but underwear. But it's only sticky at the top, it's not sticky the whole way. It would also come off because the adhesive would wear out, so then they would superglue it to my body so that it wouldn't fall off.
Dornan worked with a "sex advisor" to make sure they got the BDSM right.
Jamie mostly had an advisor that was on set for the first film, not so much for the second. Then we just had people who specialized in knowing how things work, like how to use certain tools and toys.